Third Grade's November to Remember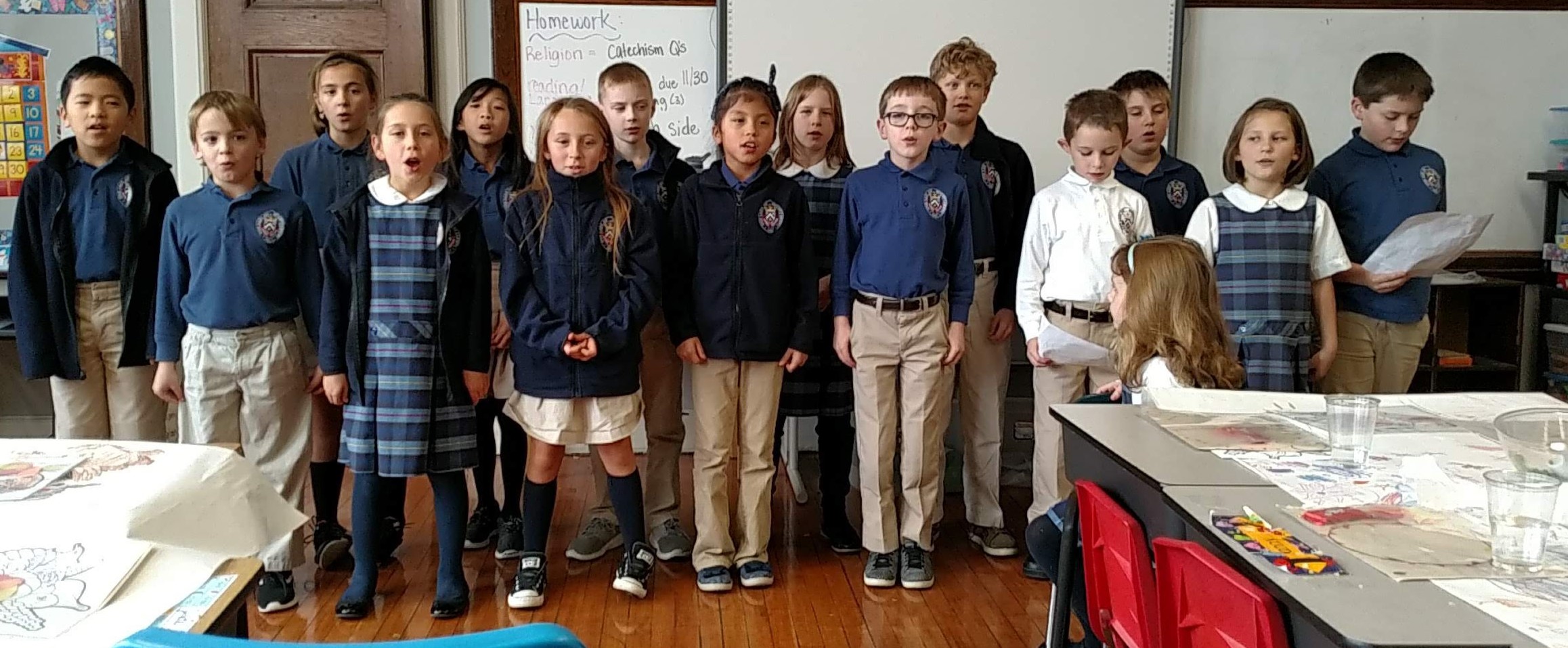 Each grade — and every student within each grade — is known for certain unique characteristics: character traits and habits of heart and mind that enrich the rest of us simply by being in their presence. The third grade can be distinguished by its exuberance and intellectual curiosity. Every day is a new adventure, to be greeted with wonder and delight. They seize every opportunity to see new angles, dig deeper, and learn more. It's no surprise, therefore, that these young students made the most of the short month of November.
First, they explored the world of the Ancient Egyptians, reenacting and discussing the events and acting out the lives of the Pharaohs of old. They read about the events that occurred in the Old, New, and Middle Kingdoms of Egypt, then engaged in a lively reenactment of the story of Ancient Egypt. They also created their own clues and riddles for a game called "Who's that Pharaoh?" Forget Jeopardy and Trivial Pursuit — when it comes to Hatshepsut and Amenhotep, these kids could challenge even the most seasoned competitor to a battle of knowledge!
Next, the students explored the difference between warm-blooded and cold-blooded animals by comparing infrared images of zoo animals. They observed that the warm-blooded animals did not match the temperature of their surroundings and had heat radiating from within, while the cold blooded animals were the same temperature as their surroundings. From this, they were able to draw the conclusion that warm-blooded animals can create their own heat, while cold-blooded animals' temperatures depend on their environment.
While this may seem like the kind of run-of-the-mill information typical of third grade textbooks, the salient point is that the students didn't learn it from a textbook — they discovered it on their own. They engaged in scientific inquiry with the same diligence and precision they will need in high school Biology and beyond; more importantly, by working with the images rather than being talked at about the images, they were able to take ownership of their new-found knowledge in a unique and wonderful way.
As for literature, they have fallen in love with the story of The Princess and the Goblin by George MacDonald. They're enraptured by the relationship between Irene and her mysterious Great-Grandmother and enthralled by Curdie's expeditions into the mines to follow the goblins. Reluctant to close such a lovely book once and for all, the students are still engaged in a very animated discussion of what exactly the goblins are planning and whether or not Irene's grandmother is a dream, as many characters seem to think. This classic fantasy has delighted readers young and old since its publication in 1872, and our third graders highly recommend it for your reading list!
Finally, the students had a great time learning the rules and history of etiquette for our Etiquette Brunch. They began by learning about the etymology of the word "etiquette:" It derives from the French word for "ticket," a reference to the invitation – or ticket – one would receive to attend the party of royalty. With that regal legacy in mind, the students prepared a meal and created an elegant ambiance for each other. It was an ideal setting for them to practice their etiquette rules together, and while they may not be accepting invitations to a royal wedding any time soon, the manners they acquired will serve them extraordinarily well in interviews, business lunches, and beyond.
It wasn't just about keeping their elbows off the table, though: The students finished the day by joyfully reciting beautiful poetry for each other. It was a fitting end to a typical day for this delightful crew, where awe and wonder are always on the menu!
Of course none of these adventures would be possible if it weren't for the spectacular efforts and commitment of our third grade teacher, Mrs. Heather Golinsky, who teaches by the motto: "It is not what is poured into a student that matters, but what is planted." An avid reader, writer, seamstress, musician, and gardener, Mrs. Golinsky considers herself a lifelong learner and strives to continuously plant seeds of wonder within her students. She holds a Masters degree in Literature and doubles as OLMC's Dean of Students.
For more about Mrs. Golinsky and the rest of our extraordinary faculty, please visit our faculty bio page.